Are you a fan of the TV series 'Emily In Paris'? Well, look no further, below you can find all the iconic locations which appear throughout the series – restaurants, cafés, instagrammable areas and more.
1. Emily's Apartment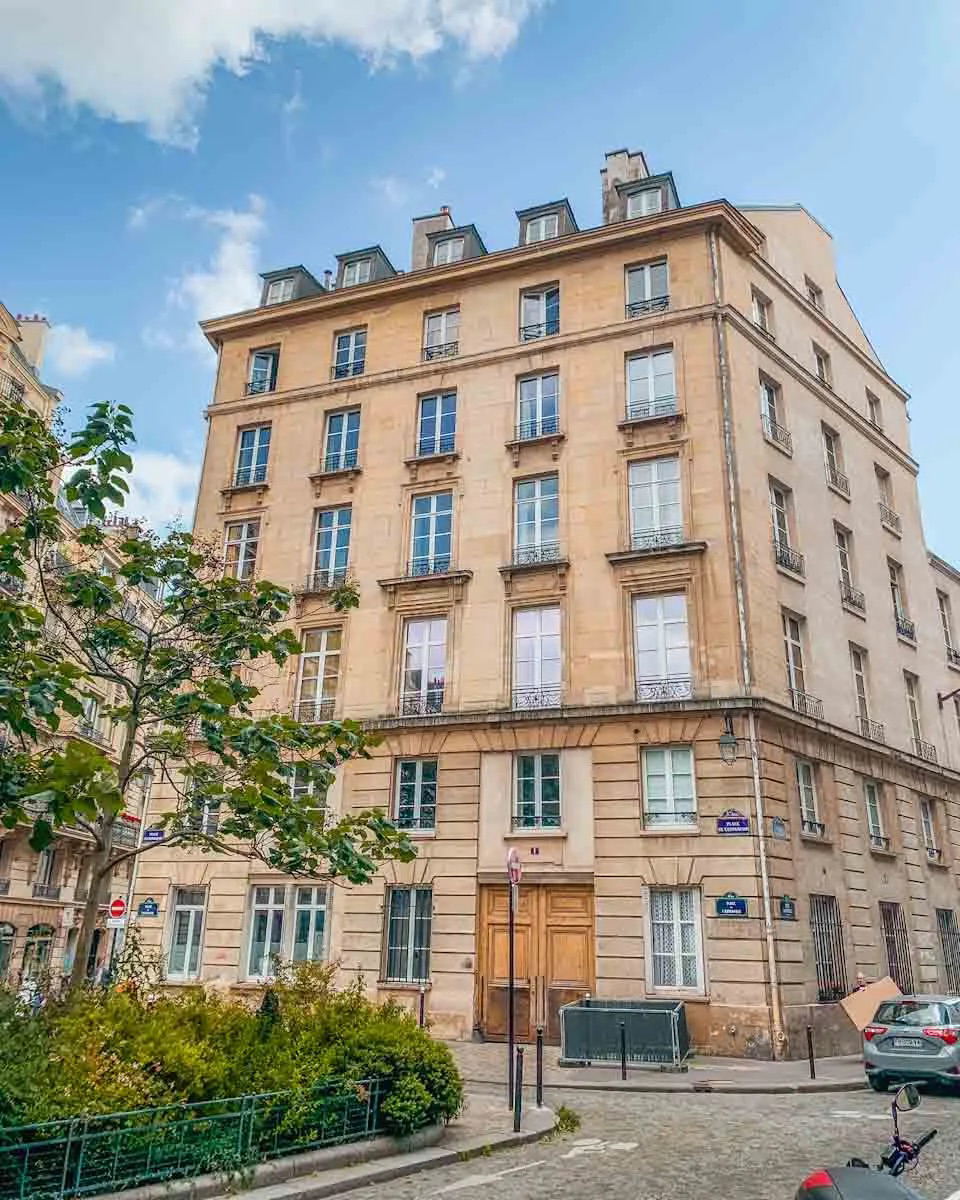 Right next to the Pantheon you can find Emily's apartment, situated in the latin quarter. The building overlooks a peaceful square, lined with paulownia, and where in the centre, stands a pretty fountain.
Her room, situated on the 5th floor (with no lift!), has a beautiful and unobstructed view over Paris
1 Place de l'Estrapade, 75005, Paris
2. Les Deux Compères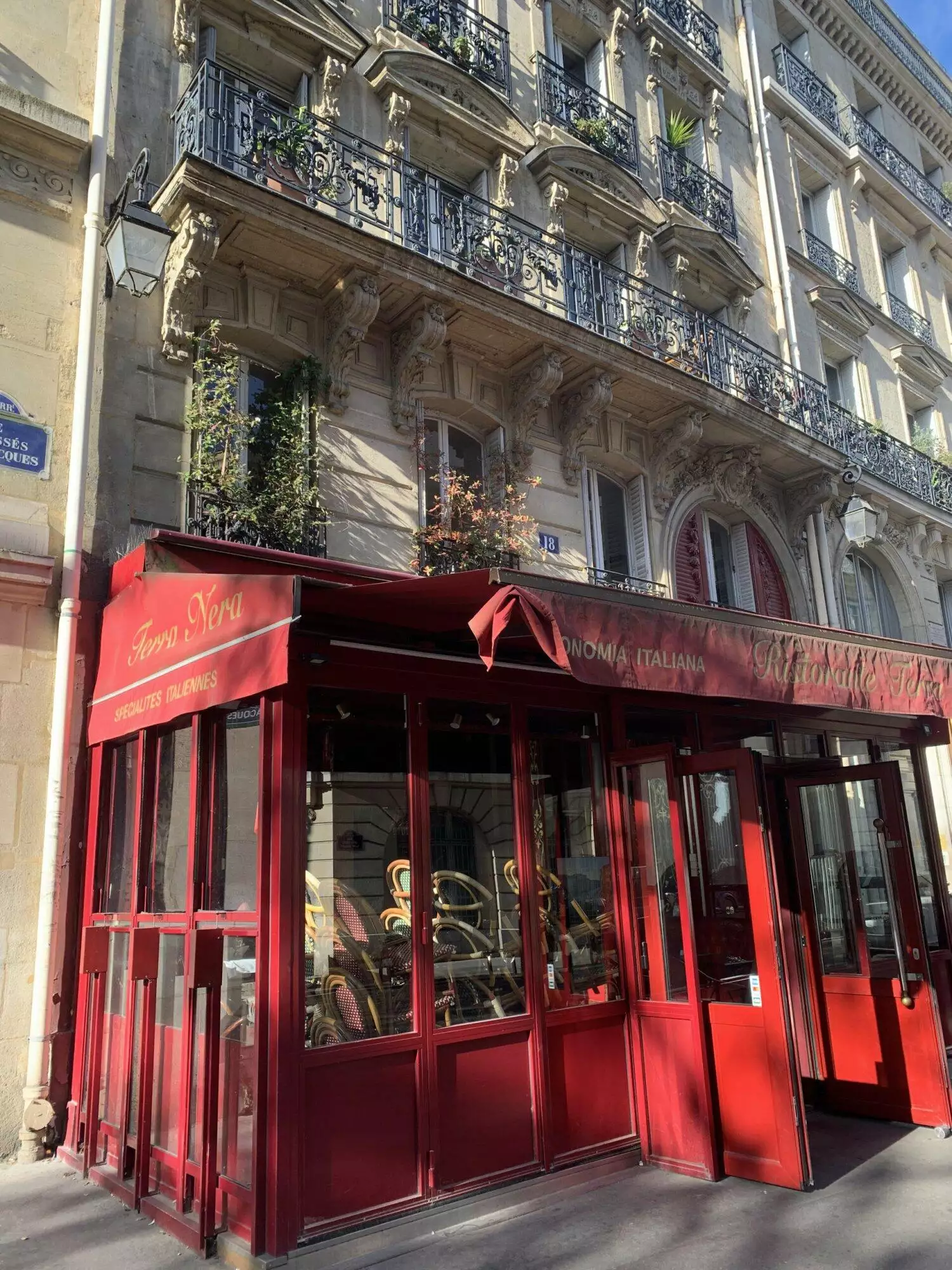 Gabriel's famous restaurant is situated right next to Emily's apartment! You may have noticed the name is not the same. The restaurant they used to film in is actually called Terra Nera - an Italian gem.
Rumour has it, that soon the restaurant will be introducing the 'Emily Menu' where you can taste Gabriel's classic dishes!
18 Rue des Fossés Saint-Jacques, 75005, Paris
3. Boulangerie Moderne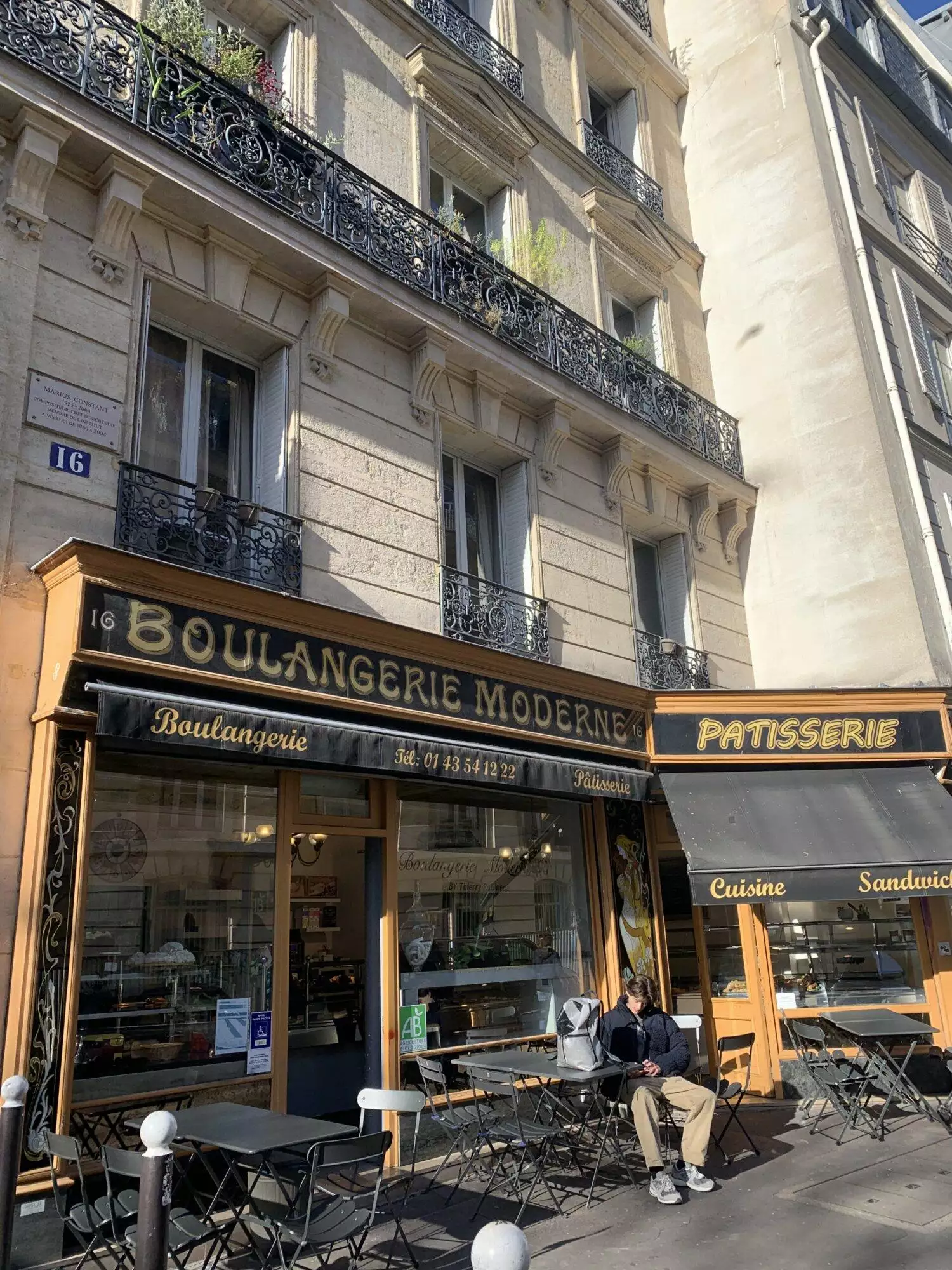 Also known as: Emily's favourite boulangerie!
Literally next to both the apartment and the restaurant, you will find the 'Boulangerie Moderne'. This is where Emily goes to buy her favourite pain au chocolat. What are you waiting for? Go on, treat yourself
16 Rue des Fossés Saint-Jacques, 75005, Paris
4. Savoir Agency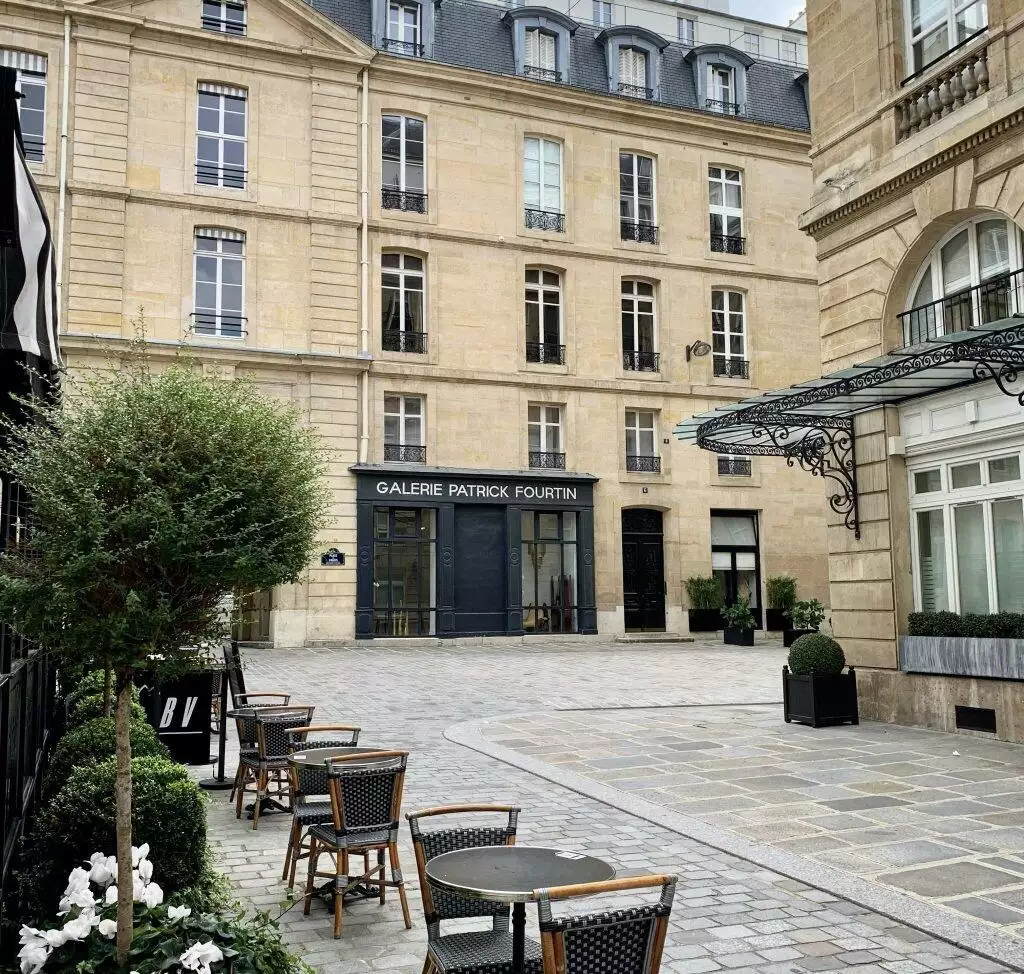 The agency that Emily works for does not actually exist, however the building does! It sits proudly in the middle of the very chic 'Place de Valois', nestled between the Royal Palace and the Louvre. The entrance to the agency adjoins the real Patrick Fourtin gallery, specialising in luxury furniture from the 20th century that can be seen in several scenes.
6 Place de Valois, 75001, Paris
5. Le Bistrot Valois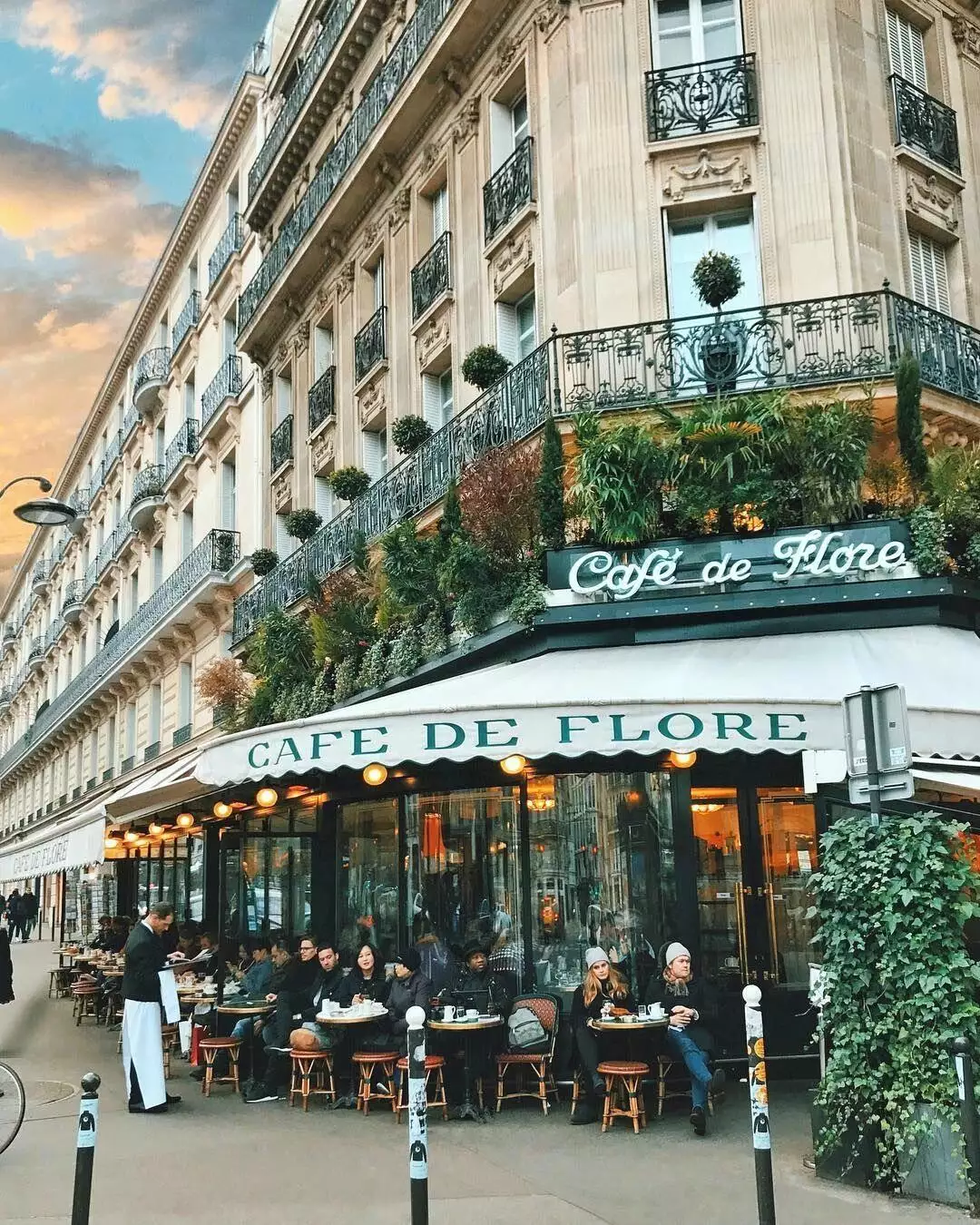 Located right next to her agency, the bistro has a beautiful terrace where Emily's colleagues enjoy having lunch with or without her! Why not sit out on the terrace and enjoy a coffee, or even some lunch?
1 Place de Valois, 75001, Paris
6. Jardin du Palais-Royal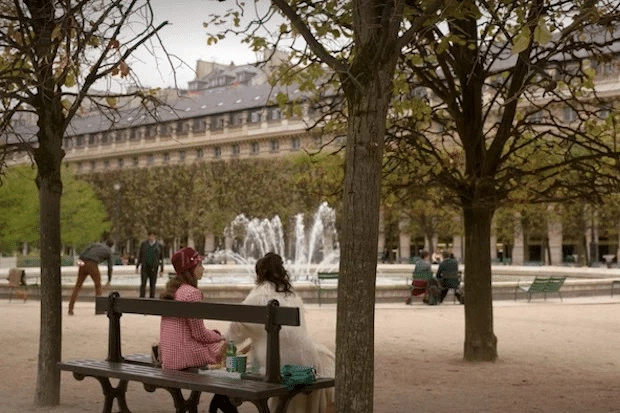 Next to Emily's agency you can find a beautiful garden where she actually spends her first lunch break. This is where she meets Mindy for the first time, and where they continue to meet throughout the series. They met on the bench with the phrase "Aujourd'hui, c'est demain et hier qui s'épousent" - Cocteau. Can you find it?
43 Rue de Valois, 75001, Paris
7. Le Grand Véfour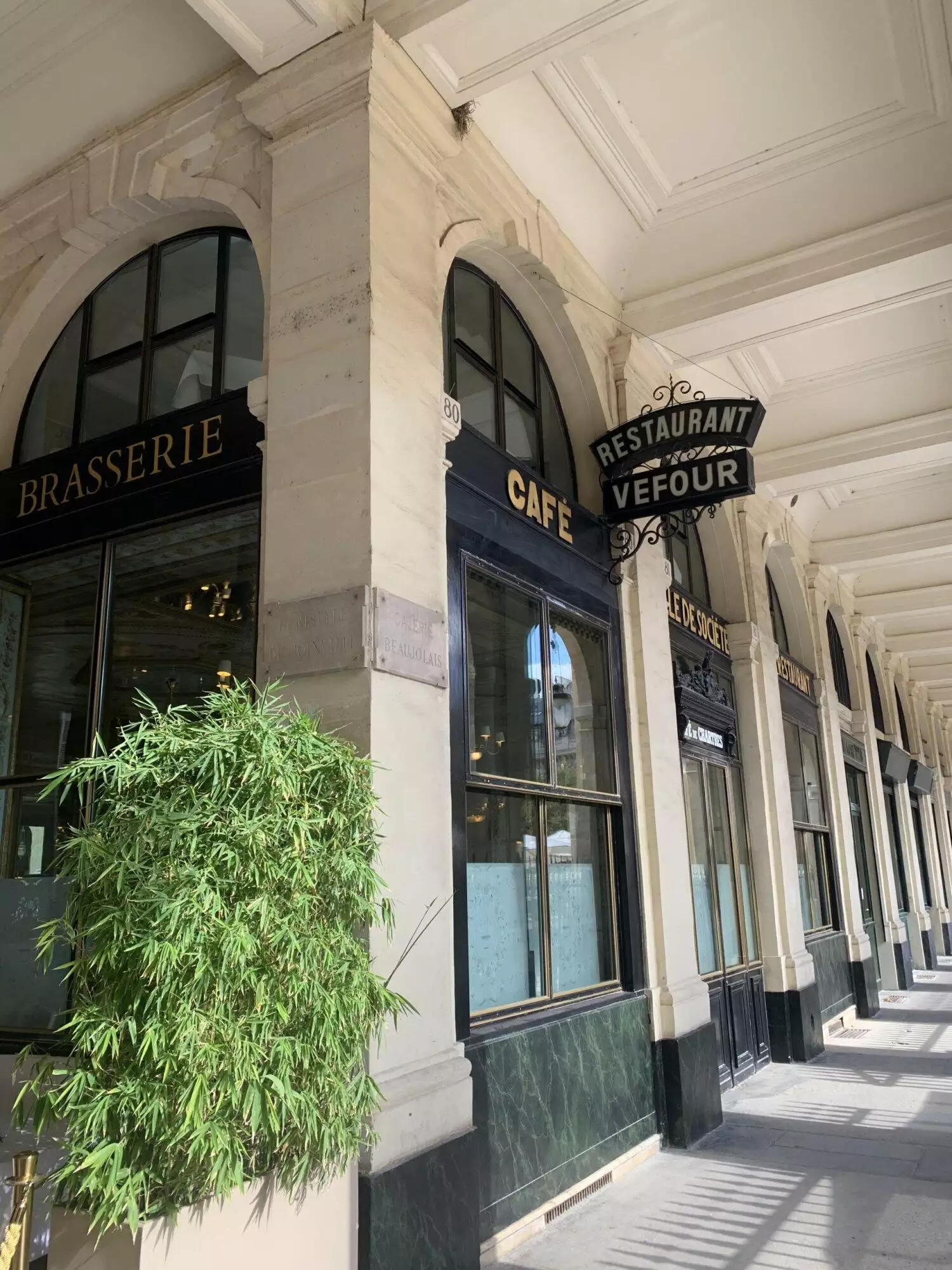 Situated at the back of the royal palace garden, this is the restaurant that Emily tried and failed to book for a meeting with a client.
The name of the establishment was chosen in honour of the Duke of Chartres, eldest son of Louis d'Orléans, the one who undertook the development of the Royal Palace.
Take a look inside, the decor is amazing, dating back to the 18th century!
17 Rue de Beaujolais, 75001, Paris
8. Pont Alexander II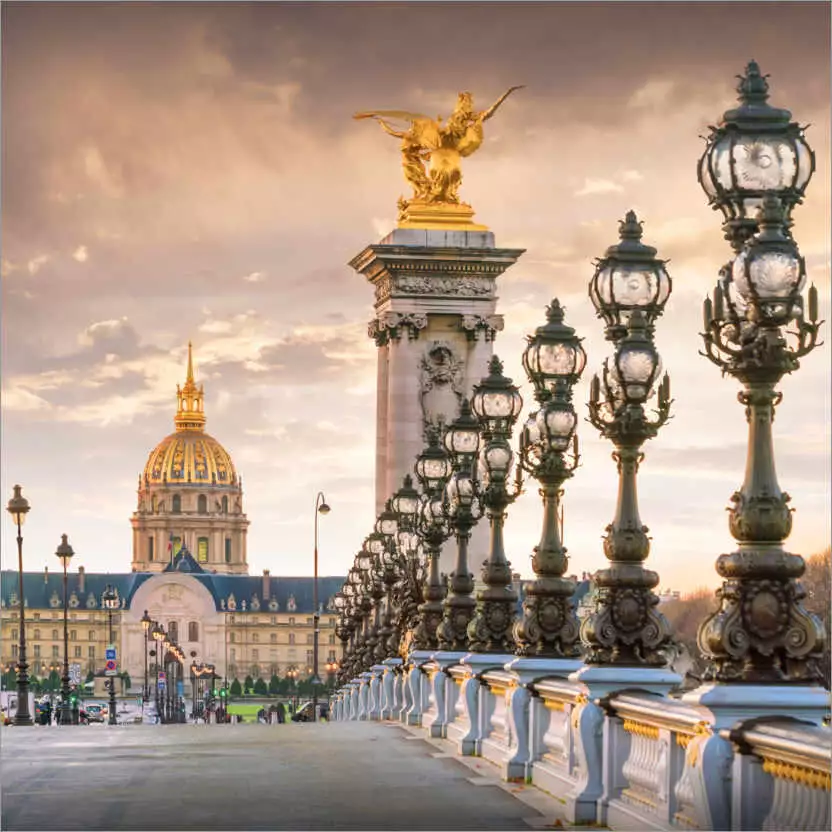 This is the bridge where, in the series, a French perfume brand film their advert. This scene is strongly reminiscent of a well-known ad, that of the perfume of Yves Saint-Laurent starting Marine Vacth. Only one difference, the model in this episode is completely naked!!!!
This bridge is also very famous in Paris, symbolising the Franco-Russian friendship, established by the signing of the alliance in 1891 between Emperor Alexander III and the President of the French Republic, Sadi Carnot.
Pont Alexandre III, 75008, Paris
9. Place Dalida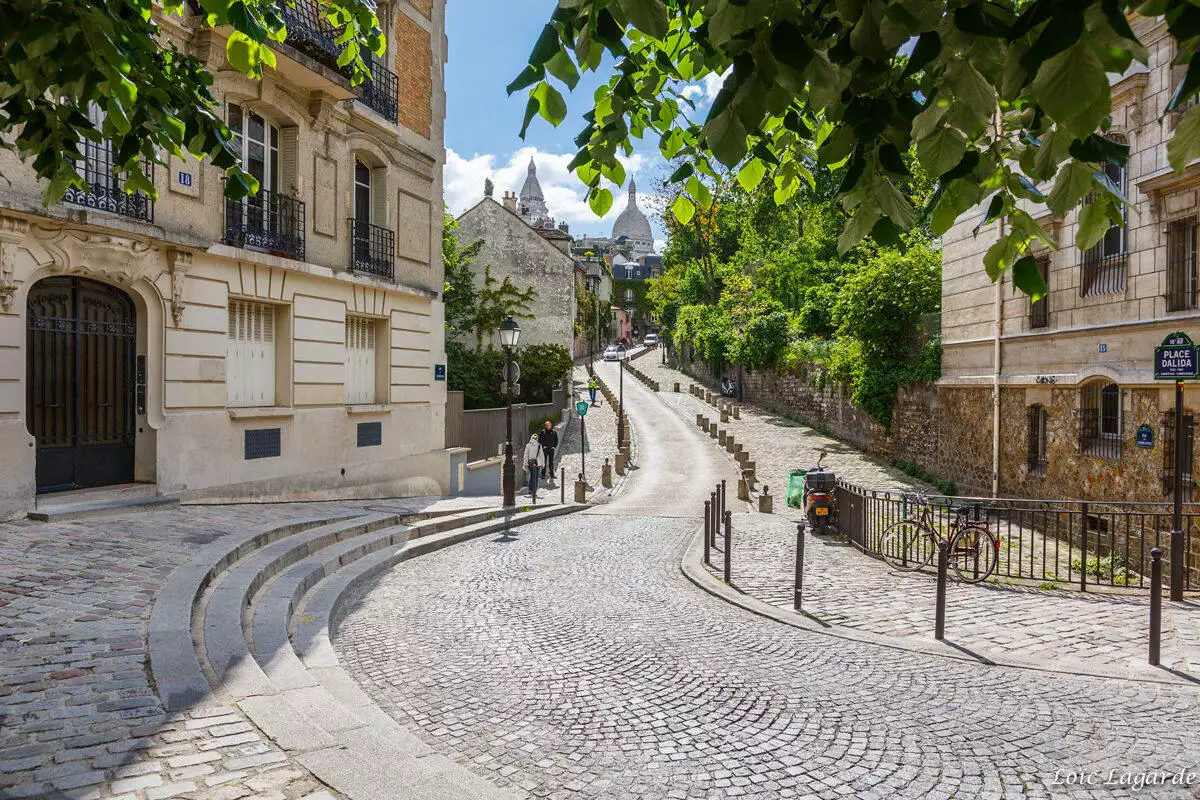 This road, according to Mindy, is the most beautiful street in Paris - the Rue de l'Abreuvoir. It flows from the Place Dalida, where the bust of the singer is enthroned, all the way up to La Maison Rose.
This is where Emily sets up a bed for the Hästens mattress marketing campaign. There may not actually be a bed there, but the view is not one to miss
Place Dalida, 75018, Paris
10. La Maison Rose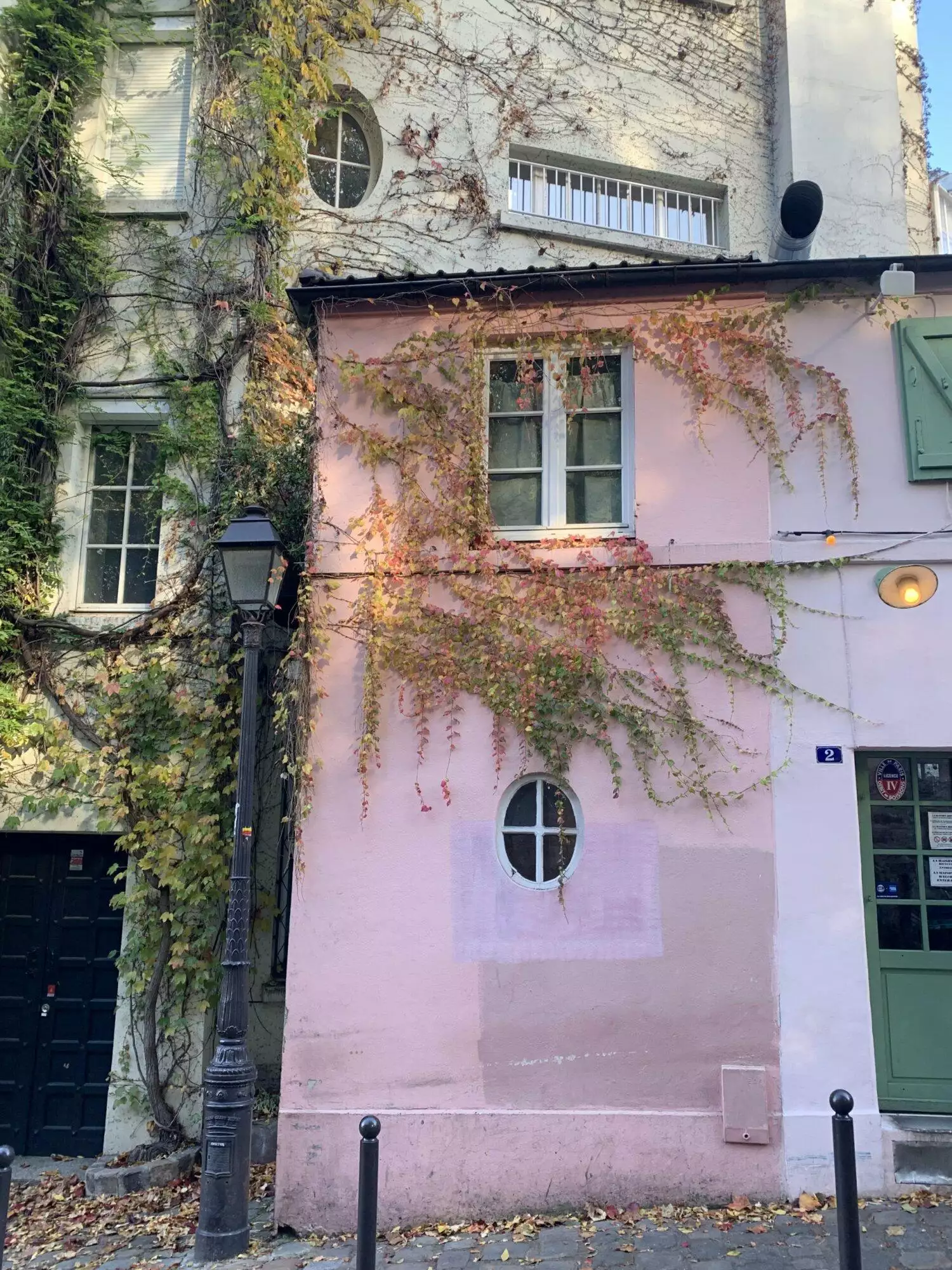 One of the most iconic and instagrammable places, situated in Montmartre. This restaurant has seen a number of famous people, all from different backgrounds and characters: Pablo Picasso, Maurice Utrillo, Charles Aznavour… And now thanks to the series, Emily and Mindy, found sitting outside on the terrace.
2 Rue de l'Abreuvoir, 75018, Paris
11. Le Café de l'Homme
This café is situated at the Trocadero, a picture perfect area which has a magnificent view of the Eiffel Tower, by day AND by night.
Emily goes to this particular café, dressed in her gorgeous black dress, for the inauguration of the new perfume from the Lavaux house.
17 Place du Trocadéro, 75016, Paris
12. Café de Flore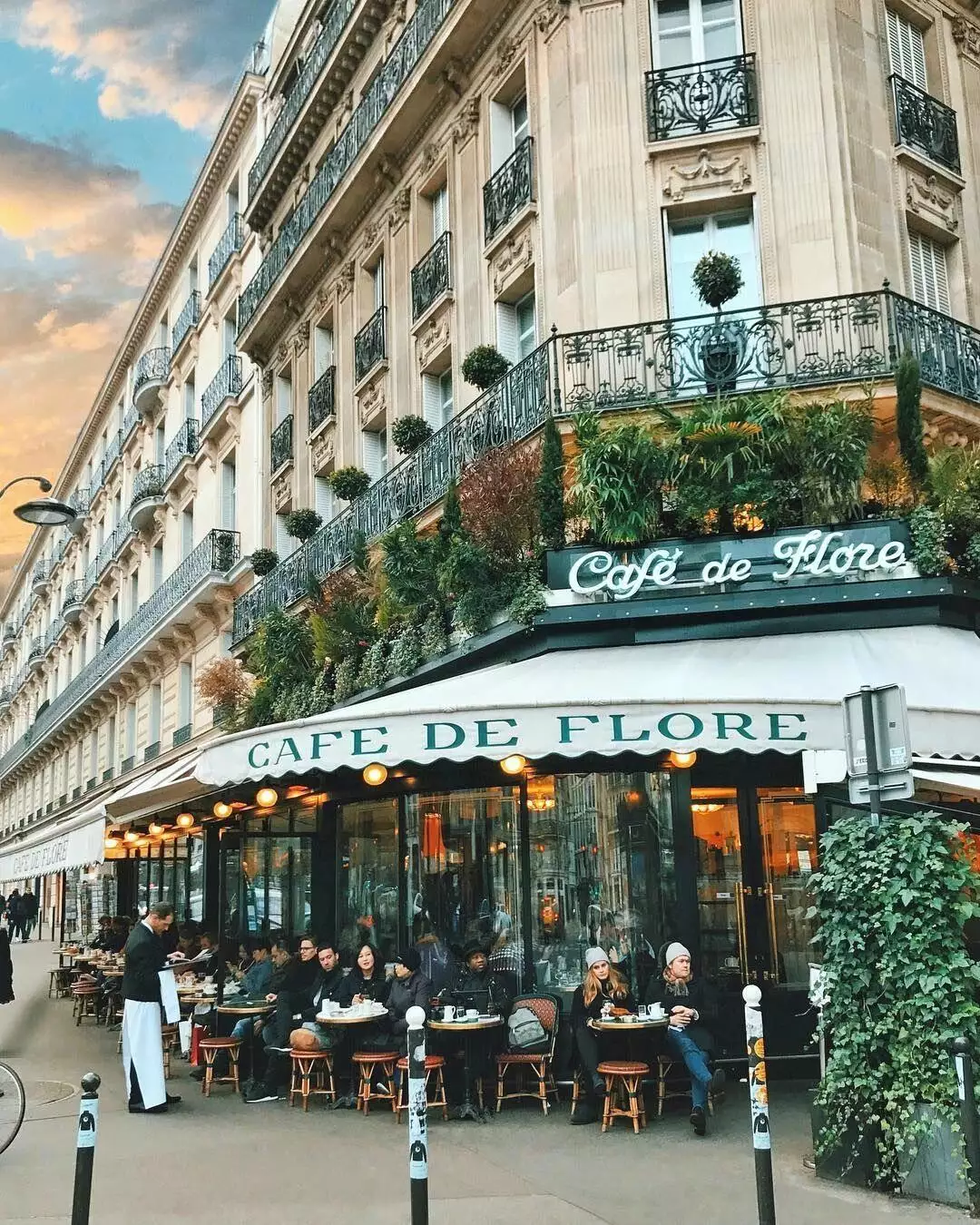 It is in this café where Emily is sat on the terrace and meets Thomas, her first French boyfriend.
Café de Flore is a renowned spot in the Saint Germain des Prés quarter, situated next to their rival, Les Deux Magots.
Why not go and enjoy a proper French hot chocolate, with delicious whipped cream and a croissant
172 Bld Saint-Germain, 75006, Paris
13. Sacré-Coeur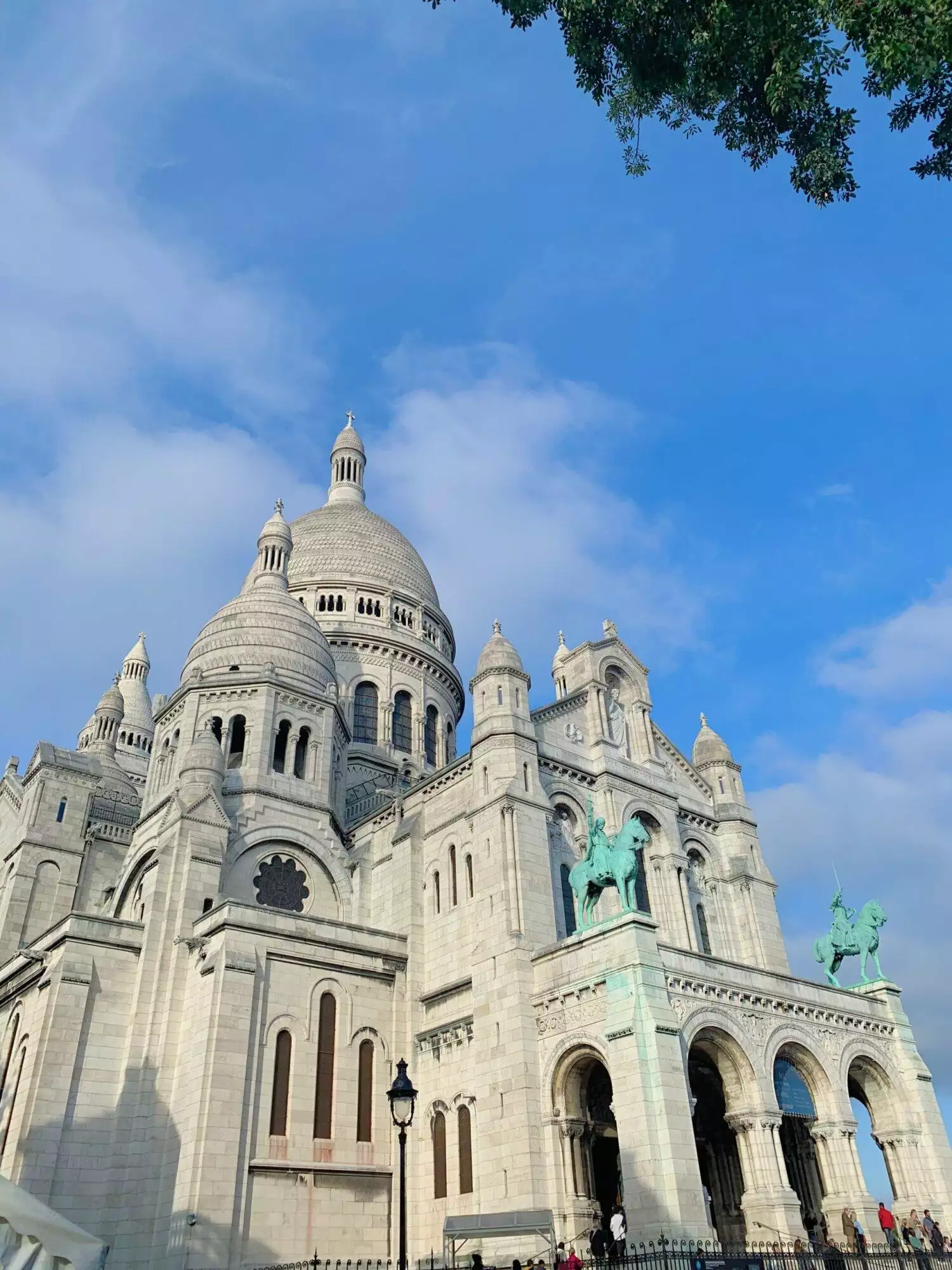 A very instagrammable place, and a must see in Paris, as proven by Emily and Gabriel.
The Basilica of Sacré Coeur de Montmartre, commonly known as Sacré-Coeur, is a Roman Catholic church and minor basilica in Paris dedicated to the Sacred Heart of Jesus. This incredible monument is located at the summit of Montmartre, 200m above the Seine, overlooking the entire city of Paris and its suburbs.
Sacré-Coeur, 75018
14. The wall of I love you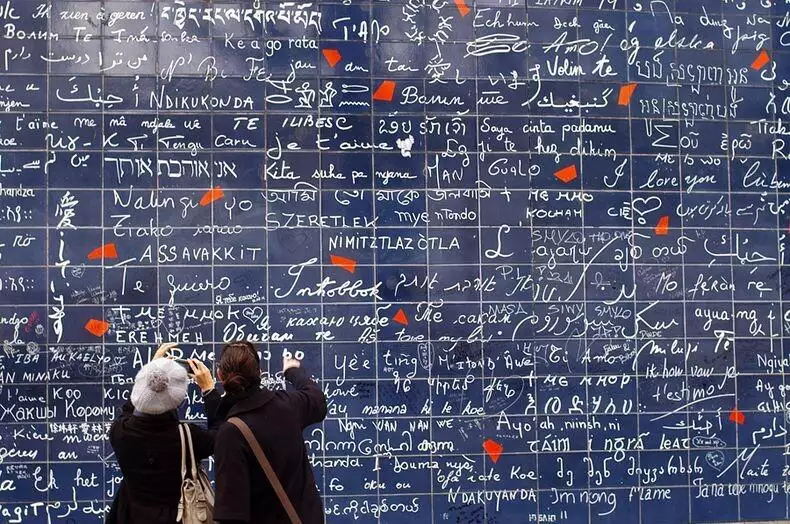 Ah Paris, the city of love. Emily and Gabriel stroll through the streets of Montmartre. After an obligatory visit to the Sacré-Coeur, they meet in front of the Wall of I Love You. As Emily describes it, this wall was created by "a calligrapher who collected more than 300 ways to say I love you, with a mural artist who then engraved them on lava tiles." A beautiful, romantic spot to not miss when in Paris.
Square Jehan Rictus, place des Abbesses, 75018
15. Mcdonalds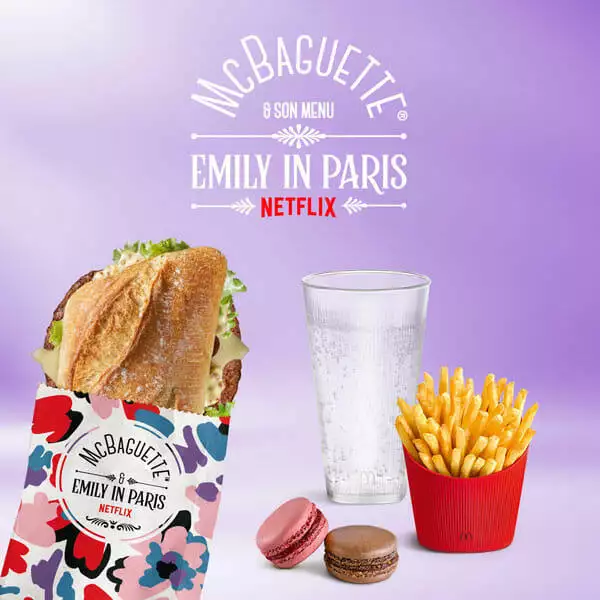 In Episode 1 of season 3, Gabriel invites Emily to have lunch at the Mcdonalds located on the Champs Elysées. This moment helps to inspire the American expatriate for her marketing campaign, the McBaguette. In fact, the collaboration has gone beyond fiction. The fast food chain has actually launched an "Emily In Paris" menu consisting of the famous McBaguette and macaroons!!
Bon appetit!
McDonald's, 140 avenue des Champs Elysées, 75008
16. Canal Saint-Martin
During her brief time off, Emily has time to wander around Paris. Of course, she doesn't fail to find the best photo spots to take some selfies. In the middle of summer, what more charming place than the quays of the Canal Saint-Martin to take a break with a good bottle of rosé? Emily has understood Parisian life.
89 Quai de Valmy, 75010
17. Palais Garnier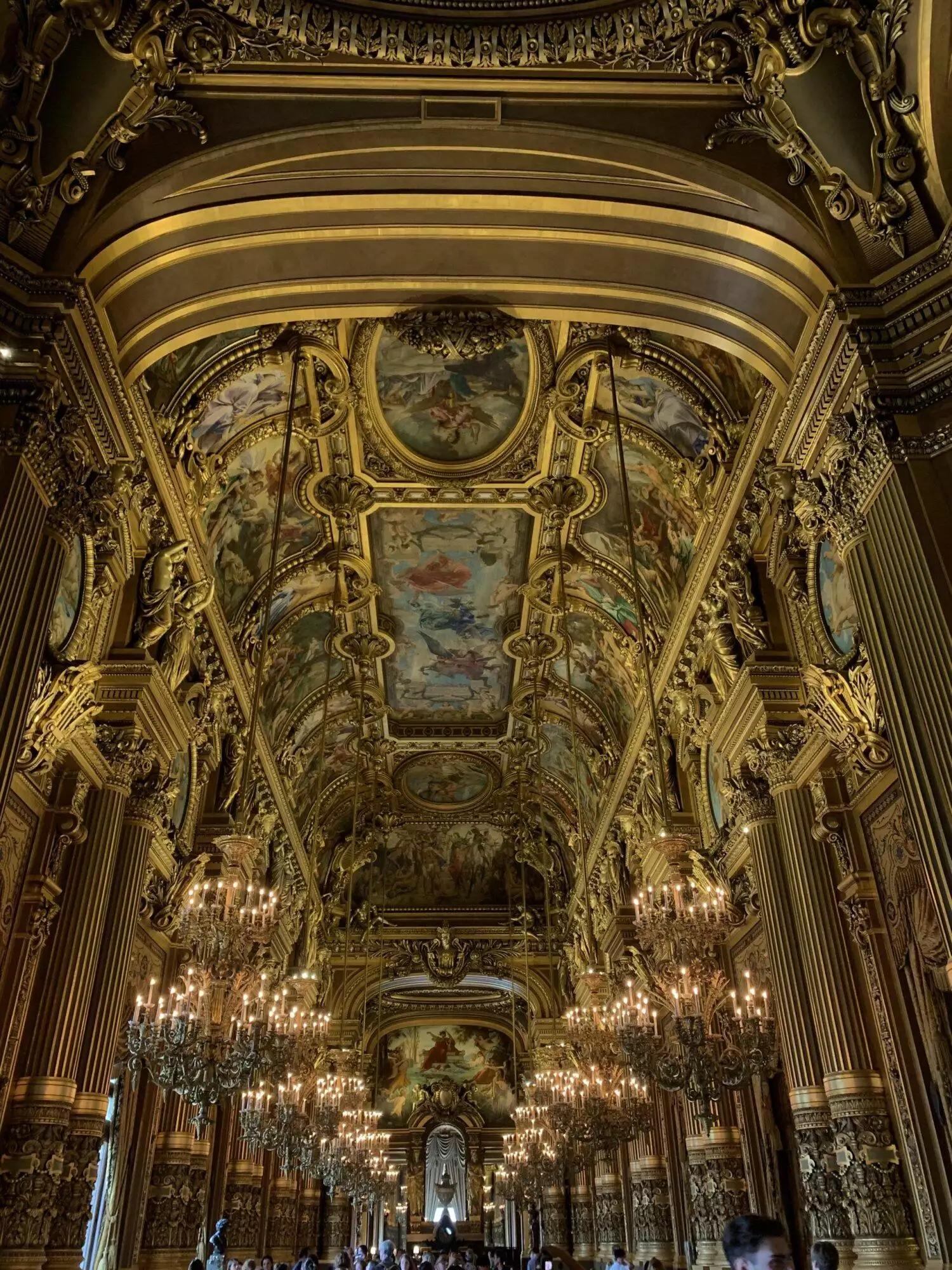 To celebrate their wedding anniversary, Sylvie takes her husband to watch a spectacular play (season 3).
Created by the architect Charles Garnier in 1875, the Palais Garnier houses a prestigious auditorium and public areas (grand foyer, rotonde des abonnés, salons), a museum-library, as well as several rehearsal studios and workshops.
The "Italian-style" auditorium can accommodate 2054 spectators. With nearly 480,000 visitors each year, it is one of Paris' most visited monuments. It has been listed as a historical monument since 1923 and definitely not one to miss when in Paris!
Pl. De l'Opéra, 75009
18. Parc des Buttes Chaumont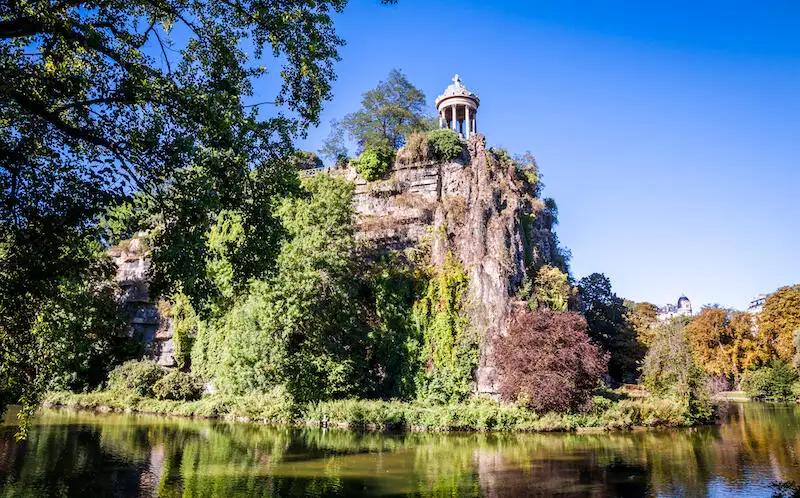 In the third episode of season 3, Emily and Alfie take a romantic break in the famous Buttes-Chaumont park. And it's not the first time that the most beautiful Parisian parks are part of the Emily In Paris landscape - do you remember the Jardin du Palais Royal in season 1, where Emily and Mindy's friendship was born?
Parc des Buttes Chaumont, Place Armand-Carrel, 75019
19. Hotel Molitor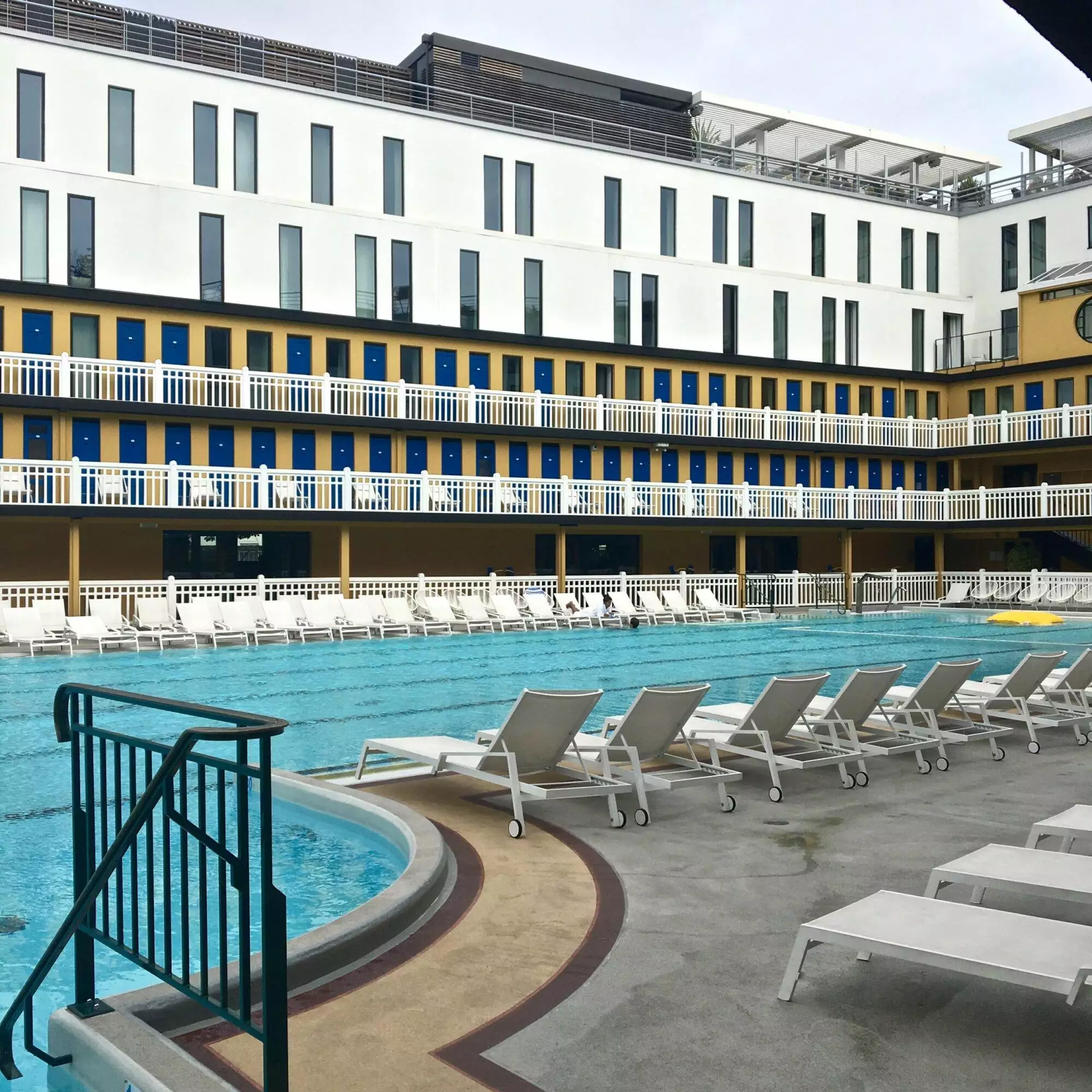 Recognise this?
Season 3, episode 5 - where Mindy and Emily spend their time relaxing and soaking up the sun in an open air pool!
In this hotel you have the option to swim inside (in a pool which was built in the 1930s) or outside (an all year round heated pool)! You can also make the most of the bar where they serve drinks and little tapas dishes.
13 Rue Nungesser et Coli, 75016
20. Jules Vernes Restaurant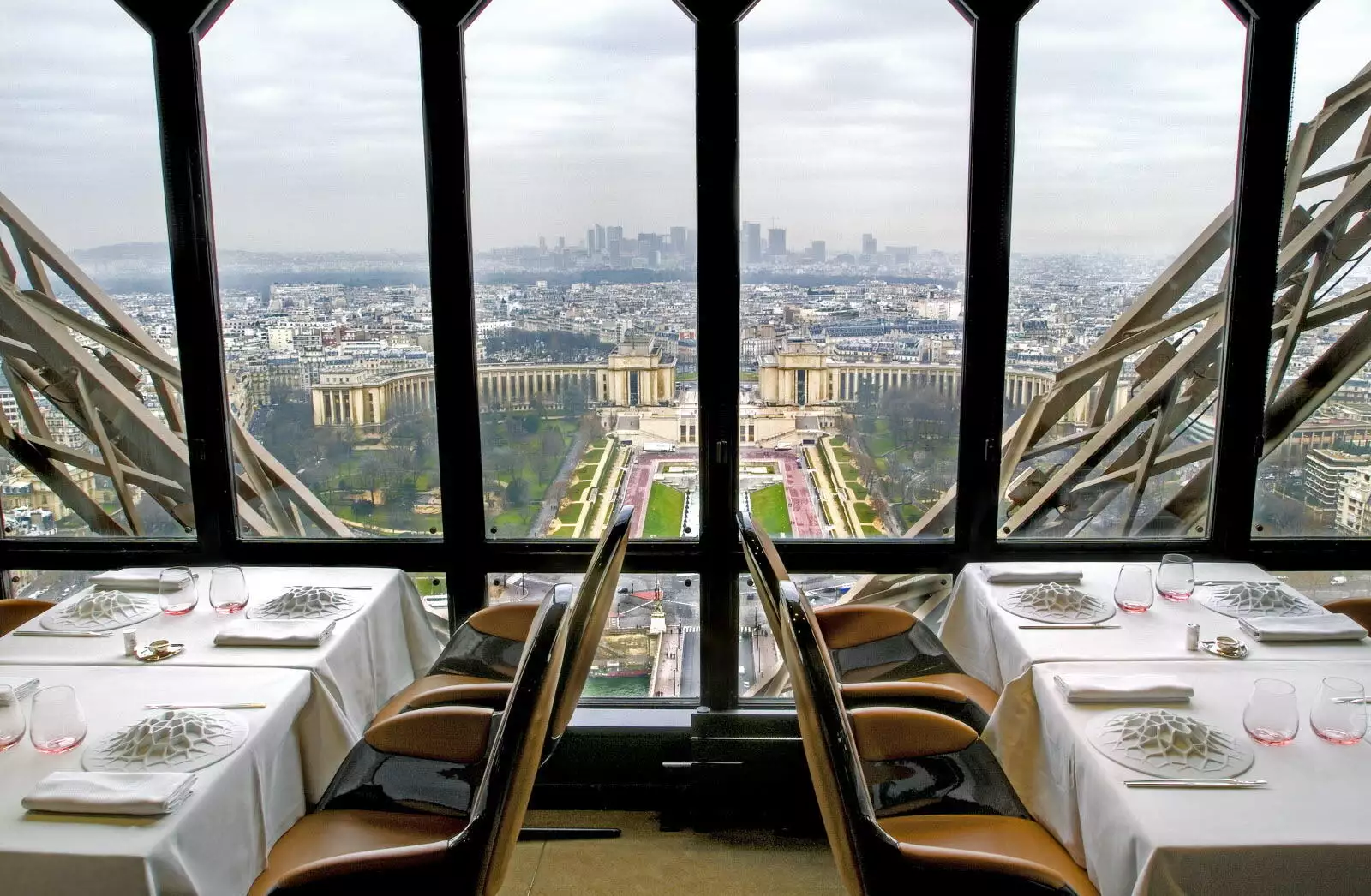 This restaurant is located ON the Eiffel Tower, 125m from the ground, serving traditional French cuisine with an extraordinary view over Paris! This is where season 3 of Emily In Paris begins, with her two bosses, Sylvie and Madeleine arguing!
5 Av. Gustave Eiffel, 75007
21. Le Flore en L'ile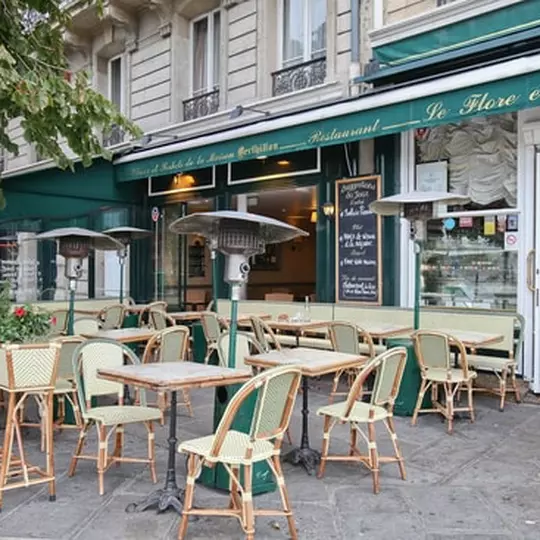 It seems that Luc and Emily really enjoy meeting at Le Flore en L'ile. Just like in the first season, the two protagonists meet on the terrace of this unmissable place in the Parisian landscape. Located on the Ile Saint-Louis, not far from Notre Dame, this place with its typical Parisian charm, could only please Emily.
42 Quai d'Orléans, 75004
22. Chez Julien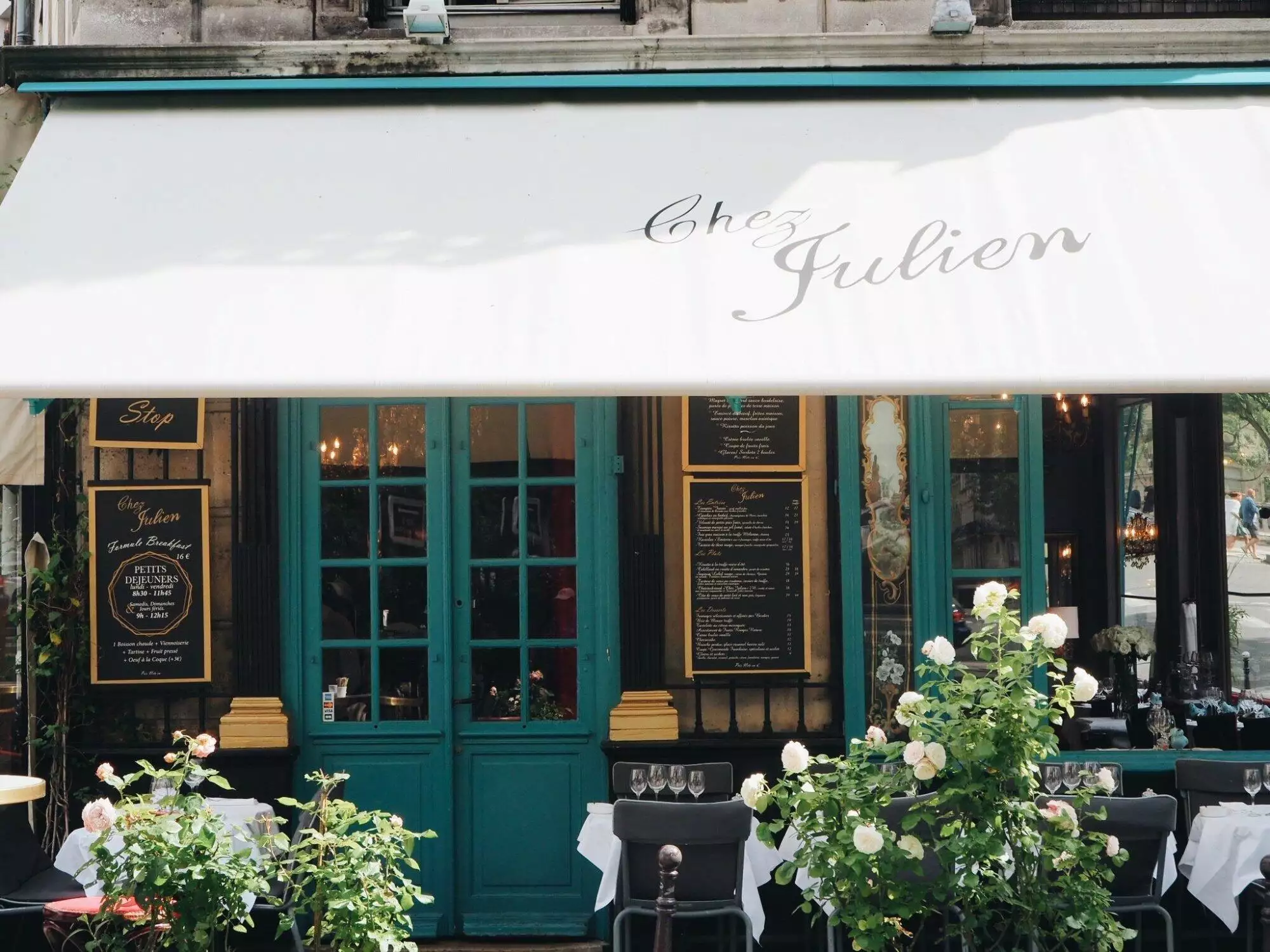 A very chic Parisian bistro! Along a cobblestone street, this iconic restaurant not far from the Ile Saint-Louis could only appear in season 3, episode 10. With its Belle Epoque decor this restaurant can be enjoyed from the inside or even just the outside. Be aware: it is expensive!
1 Rue du Pont Louis-Philippe, 75004
23. Musée d'Orsay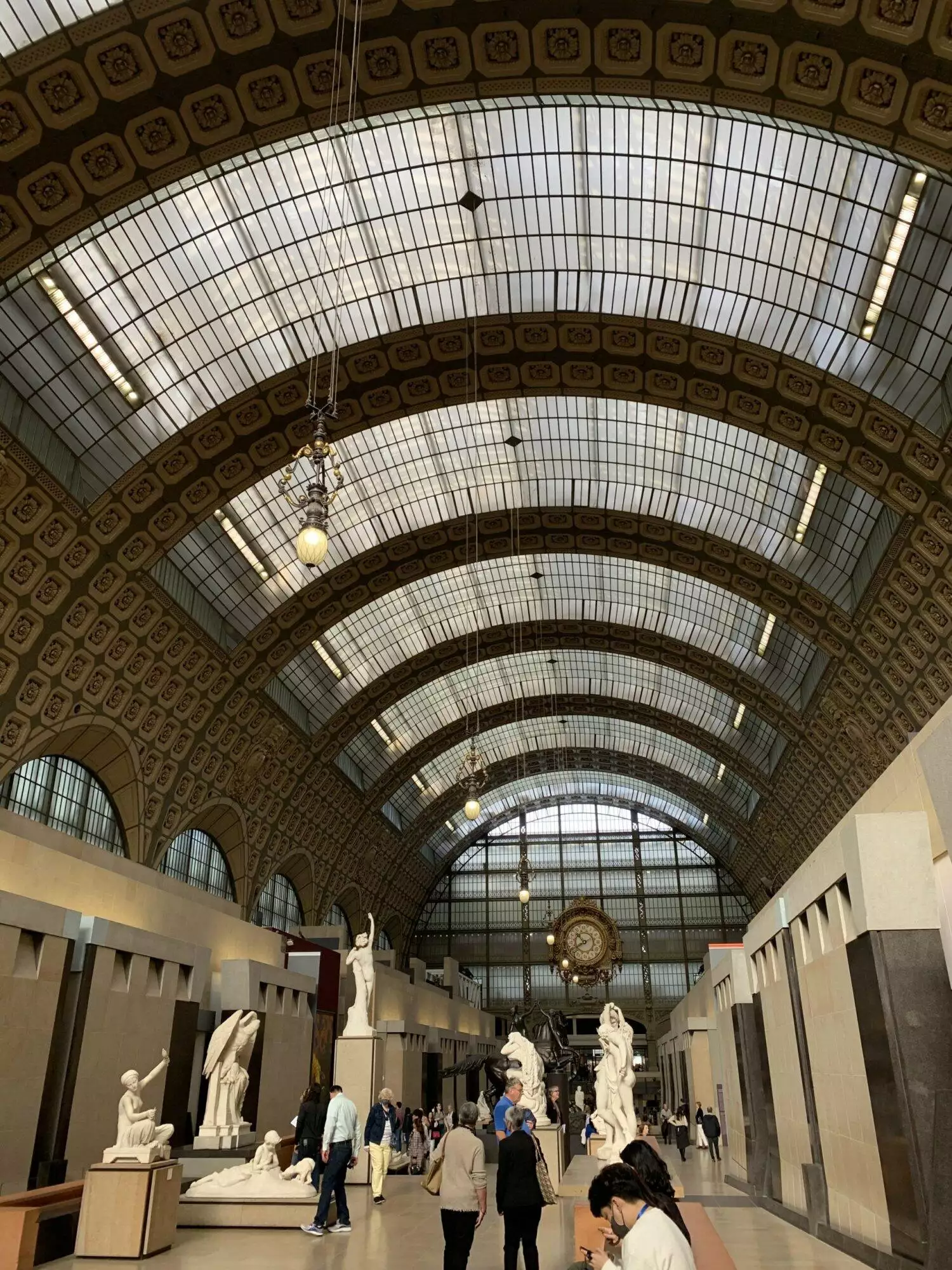 In the heart of the former Orsay train station, the famous museum exhibits the richest collection of impressionist and post impressionist paintings in the world. In episode 9 of season 3, we are lucky enough to see this renowned museum, where Camille and Gabriel share a moment together.
Did you know that the actor Lucas Bravo (Gabriel) told Netflix that he felt privileged to shoot a scene in this legendary place, which he considers his favourite museum in the world! Definitely one to book when in Paris.
1 Rue de la Légion d'Honneur, 75007